Pebble smartwatch interface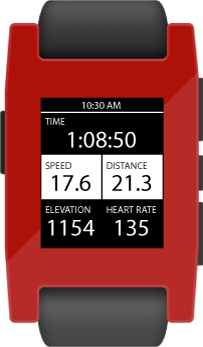 As of version 2.3, Elevation Tracker includes a Pebble watch app that you can use to display real-time stats on your Pebble smartwatch. Here are some details:
The watch app requires Pebble 2.0 firmware on your watch.
To install the watch app, make sure your watch is paired with your iPhone and you have the Pebble Smartwatch app installed on your iPhone. Then open Elevation Tracker, tap the Settings tab, and tap the Install Pebble App button (you might have to scroll down to see it). This will send the app to the Pebble Smartwatch app, which will install it onto your watch.
The watch app will automatically launch when you tap the Start Tracking button in Elevation Tracker, and will automatically quit when you tap the Stop Tracking button. While tracking, you can switch to other watch apps and switch back again.
The watch app will update its display whenever the iOS app updates its display, but the displays only update when you have moved 10 meters. This means the timer won't necessarily show every second that passes, but it will still show the correct time at the next update.
If you no longer wish to use the watch app, you can use the Pebble Smartwatch app to uninstall it. No data is stored on the watch, and you can always install it again later.